DO YOUR OWN HOUSE SURVEY? Part 1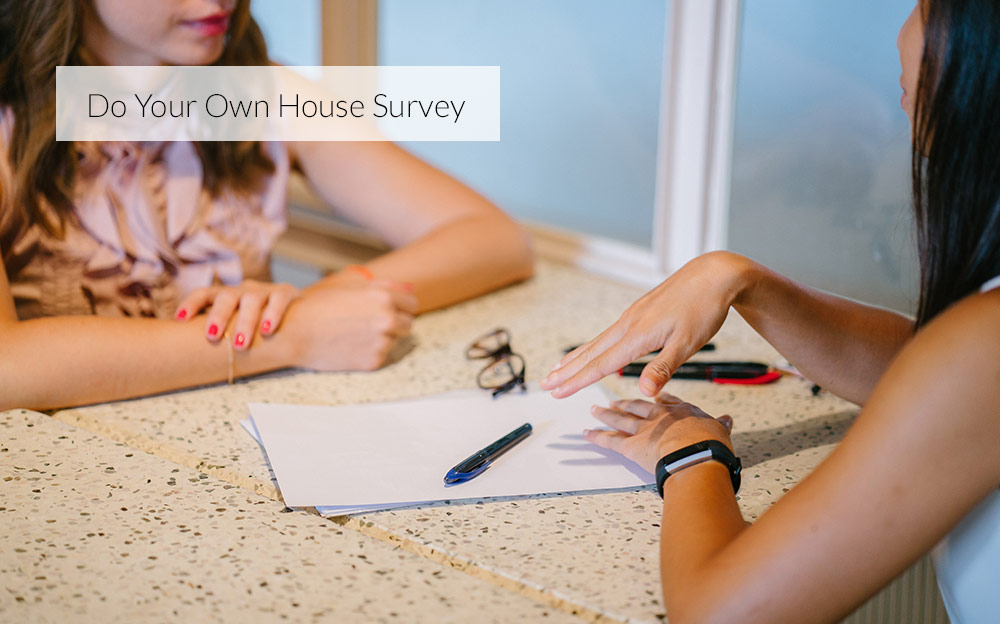 Part 1
Can you do your own initial survey ? Yes. You certainly can take a careful look at any property that you are thinking of buying ahead of instructing / paying for a RICS qualified Surveyors report. These are a number of things you should be able to see, and then consider.
Flat Roofs
If the property has been extended it may well have a flat roof. The lifespan of a flat roof is much shorter than that of a pitched roof comprised of tiles or slates. You can often get a good view of a flat roof from first floor / bedroom windows. If the roof looks bare or is bulging in some areas then it is likely to be heading towards the end of its lifespan.
Dampness
One of the most common causes of dampness in a property is a high external ground level. The external ground level should always be at least 6 inches below the DPC (Damp Proof Course). Drives and patios are sometimes re-laid by enthusiastic amateurs who may have ignored / breached this important requirement. If the DPC cannot be easily seen look around the top of any rendered plinth or about 275mm (13 inches ) below the internal floor level.
Injected DPC.
If damp problems have occurred in the past then it is possible that a damp roof course has been injected. This involves drilling a series of holes adjacent to where the original DPC would have been and injecting a fluid which will increase the density of the brickwork and prevent dampness seeping through. The effectiveness of such systems is debatable along with the associated workmanship. Such treatments are usually covered by a warranty but you should check that the company that issued the warranty is still trading.
Chimneys Stacks
Chimney stacks are susceptible to movement and a gradual deterioration of the pointing. The difficulties of access and doing remedial work to a chimney breast can be expensive (scaffolding costs). Stand at the front or rear of the property in line with the chimney breast. Does it look plumb ? A very slight lean can be tolerated but anything more significant and you could be looking at some painful rebuilding costs.
Trees
Trees close to buildings can affect the foundations and drains and are formally measured in " influencing distance ". Different trees have different influencing distances but all trees roots have the potential to disturb the equilibrium of the ground to greater or lesser degrees. It is easy to see if a tree is blocking out sunlight but possible damage to the main drains can only be accurately assessed by using a close circuit TV camera.
Movement
The easiest places to spot structural movement are around door and window frames. Stand back and see how they line up with the other lines above. Some slight movement is to be expected in older properties and it is usually only treated as a serious defect if it is recent or progressive. If there has been significant structural movement to a property you will definitely need to instruct a detailed surveyors report.
Lateral Restraints
If a property has suffered from lateral movement in the past it could have had restraint bars fitted. These run through the property from side to side and will have visible plates showing on the side of the property. It is more common to see these fitted on older style properties. Occasionally restraint bars were fitted years ago to some Victorian properties when the first signs of lateral movement were noticed following construction.
Chimney Breasts
When chimney breasts are no longer in use they are often blocked off. Where this is the case the chimney breast should be vented to allieviate the build up of moisture within. This moisture can penetrate through to the internal surface of the chimney breast and cause staining of the paintwork / wallpaper.
Removed Chimney Breasts.
If any of the chimney breasts have been removed you should follow the line of the chimney up to check that chimneys above have also been removed or are properly supported. The most common form of support is 2-3 steel supports known as gallows brackets with a lintel laid across supporting the remaining brickwork.
Soil & Vent Pipes
In older buildings the Soil & Vent pipe (the 4" diameter pipe into which the property's waste pipes connect) are often run in cast iron. The rear of these pipes are sometimes difficult to reach with a paint brush and are left exposed to the elements resulting in corrosion.
Sub-floor Ventilation
Where the ground floor of a house is suspended / timber joisted & boarded, the void below that floor requires ventilation to prevent decay. This is achieved by vents placed in the external walls just above the external ground level. It is essential that these vents are kept clear. Sometimes a porch or a rear extension with a solid concrete floor has been added to the property and will obstruct these vents.
Windows
Older style sash windows require regular maintenance. You should check that both top and bottom sashes are free moving and that the sash cords are intact. Modern uPVC casements are vulnerable to thermal movement and are sometimes poorly fitted. Check that the casement opens and closes freely and also check for trapped condensation. The seal of double glazed units can fail allowing condensation to become trapped between the two pieces of glass.
Timber Decay Caused by Insect Attack
The first sign of beetle attack is identifying exit holes on the surface of the timber. Wood boring beetles thrive in warm damp areas so it is advisable to look closely in areas where the timber is exposed such as in understairs cupboards or on stairs down to basements.
Electrical Installation
Locate the consumer unit and determine its age. Modern units will have circuit breakers (RCD's) rather than old style plug in fuses . Look to see  if any additional circuits have been added on a separate unit. A modern consumer unit does not necessarily mean that the entire property has been re-wired. Look at the number of sockets; are there a sufficient number for modern use and where are they positioned? It is not permitted to fit sockets in the skirting boards of a modern installation.
Loft Conversions
You should look for signs of whether or not the loft was converted for use as a bedroom or only for storage. If it is to be used for sleeping accommodation it should be closed off with a partition and there should be an escape route out to the front door. Bounce up and down on the floor a couple of time to test if a new floor was installed or if the first floor ceiling joists have been used. Your Solicitor should always request a Building Regulations completion certificate for loft conversions.
Please see Part 2 for further information .
If you wish to discuss the above or are interested in the Property market in Harrogate then please come along and see us and enjoy a free no obligation chat about the property services we provide.
Charles