The Rise And Fall Of Online Estate Agents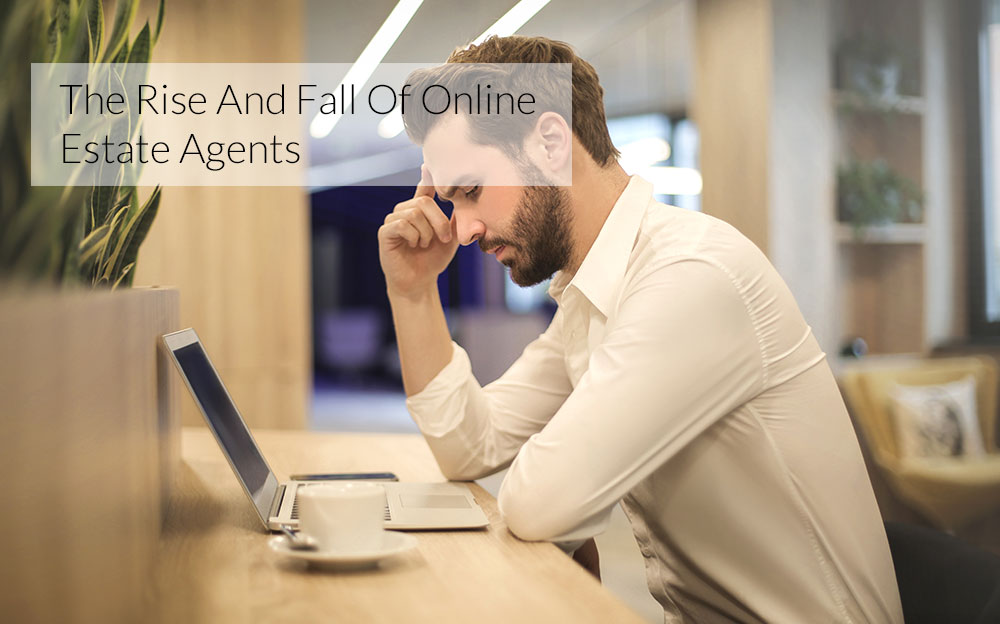 Let's turn again to the topic of Online Estate Agents.
The money currently being spent on TV commercials (propaganda) extolling the virtues of these new players in the Property business is simply eye watering as are some of the outrageous claims of savings made along with the lack of respect shown to High Street Sales & Letting companies.
Here we would quickly accept that they are not alone in this hostility. The mainstream media is also mostly negative in its coverage of our industry.
Whilst there are some rogue/incompetent Estate Agencies up and down the country – just as there are some dodgy 'Butchers, Bakers and Candlestick Makers', the overwhelming majority of companies/agents are hard working professionals doing a great job for Sellers/Buyers/Landlords & Tenants alike.
So in the interests of fact and fairness we should look at the 'pros and cons' of using an Online Agent as would be probably broadly presented by say the NAEA (The National Association of Estate Agents).
Pros of using an online estate agent
Fees: in most cases, using an online estate agent will be quite a lot cheaper than using a high street agent. The more expensive your home is, the more you stand to save if they charge a flat fee.
Convenience: it can sometimes be easier to get hold of online estate agents. Their call centres are open during evenings and weekends, so they are able to deal with queries outside of working hours (although some high street agents also offer this service).
Flexibility: packages can be tailored to your specific requirements, and you can often track viewings and feedback online (again some high street agents also offer this service).
Freedom to use multiple agents: generally, there is no contract period, which means you can instruct other estate agents if you wish.
Cons of using an online estate agent
Lack of local knowledge: even online agents with regional reps struggle to compete with a high street agent who knows your neighbourhood and its property market inside out.
Legwork: some online estate agents will negotiate offers for you and act as a middleman to progress your sale to completion, but not all. Having to manage communications with buyers and solicitors on your own can be time-consuming and stressful.
Viewings: you usually have to conduct viewings yourself, so you'll need to be comfortable showing strangers around your home and be available during evenings and weekends.
Paying up front: if you opt for this type of package, you won't be paying on results. In fact, you'll have to pay even if that company doesn't end up selling your house.
Selling price: because most online estate agents charge a flat fee rather than commission, they have less incentive to get the best price for you. That said, they do have reputations to maintain and need to try and achieve the desired asking price.
However lets now get real.
In the real world of Harrogate and the surrounding villages the property market is overheated. There is a shortage of good quality homes in every price range to buy and rent. Selling prices and rents are strong and demand plus expectations are high.
It should come as no surprise therefore that the leading High Street Agents in town are working their socks off finding well qualified / proceedable (cash or mortgage ready) Buyers and Renters able to pay the full purchase (or rental ) prices and keeping all the deals on track for the benefit of all parties.
There are fifteen of us in our business and at any one time most of us are on the phone, chasing Feedback & Offers, Lenders & Insurers/Surveyors & Solicitors /Builders & Gardeners etc… in fact doing everything we can to stop chains collapsing and getting all our deals 'over the line'. We work very hard during the day so that our clients can sleep easy at night!
If you wish to discuss the above or are interested in the Property market in Harrogate then please come along and see us and enjoy a free no obligation chat about the property services we provide.